Mask Pigs – Vegan for the animals
€9,99
Face mask to share your love for animals ♥
(The black masks can show a little bit of white in the corners, due to the printing process.)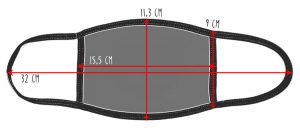 Important: these are not medical facemasks. 
Wash your mask before use!
Material: polyester fabric
Use: Wash/desinfect your hands before and after removing your mask.
Only touch the loops when removing your mask.
Size: Medium. One mask fits most, to make sure your mask will fit,
compare it with a current mask you own. Due to hygenic reasons masks can NOT be returned.
Filter: these masks come with a pocket so you can add your own filter,
you can use a coffee filter, a piece of fabric like denim or a paper towel.
Washing instructions: wash your mask after each use at 60°C. You can toss it within your regular load.
Shipping: I can ship one mask by enveloppe worldwide for €1,79 + 1 free sticker.
More items will be shipped by parcel with a free gift.
Click here for more information about the shipping costs.
🐄 Part of the profits are donated to help animals in need! 🐑
Additional information
| | |
| --- | --- |
| Weight | 49 g |
| Animals | Pigs & Hogs |
| Themes | Vegan Themed |