Hera, is a rescued cow from animal sanctuary: le reve d'aby in belgium.
A while back my partner & I visited animal sanctuary le reve d'aby. We were lucky to get a tour around the sanctuary to meet the animals. We were walking around the herd of rescued cows on the pasture and after we walked amongst them, we saw one cow standing in the back of the pasture, named Héra. While we were walking up to her, she actually started to walk away from us. While she was walking away we heared a sound which turned out to be her bones sqeaking. Our hearts broke 🙁
Before Hera was rescued she lived at a small farm. Her wounds where not treated, she was given rotten food and lived in a very unclean stable. I always used to believe that smaller farms treated animals better, but Héra is an example that in many cases this is not true. Often these small farms perform surgeries without the medical ability to do so, which was exactly what happened to Héra.  When Héra was rescued by le Reve d'Aby they discovered she was pregnant. Héra was so traumatized by previous horrific experiences of undergoing surgery and her babies being stolen from her, that she panicked when the time had come to give birth. The only way to deliver her baby was by a c-section. Because these types of cows are bred in a way that a natural birth is impossible due to the size of the calf. The vet discovered that Héra had undergone numerous c-sections and he could see by the scars that they where done terrible and left a lot of damage. Luckily the amazing volunteers from le Reve d'Aby where able to calm Héra down and she gave birth to a beautiful calf, they named Sia. The volunteers helped Héra and her daughter bond, something that Héra had never experieced with her previous babies. 
While we where standing at the pasture watching Héra walking away from us, while listening to the sqeaking sounds of her bones and thinking of her experiences. Stéphanie (one of the volunteers) said something that I will never forget: "This is her life now & she needs to live".

This is why sanctuaries like le reve d'Aby are so amazing, even though they can't undo the damage done by the animal industry. They do everything they can to give these beings a quality of life. And show people how the animal industry treats animals 🙁
While we watched Héra walking. Still thinking that she was walking away from us. Héra was actually walking towards something. She saw Stéphanie (Hera's caretaker) and Héra knew that Stéphanie always gave her an extra multi vitamin meal. Héra was walking towards the spot where she would be fed. And the sight of Hera munching on these vegetables made our hearts melt.
Despite all of Héra's horrific experiences and immense pain, she was enjoying her meal.
A positive end to a very sad story.

That's why I am vegan, I am vegan for her ♥
In honor of this beautiful cow, I made this painting of her inspired by Hera & to share her story.
Here you can see some of the progress of the painting. I used vegan acrylic paint and markers.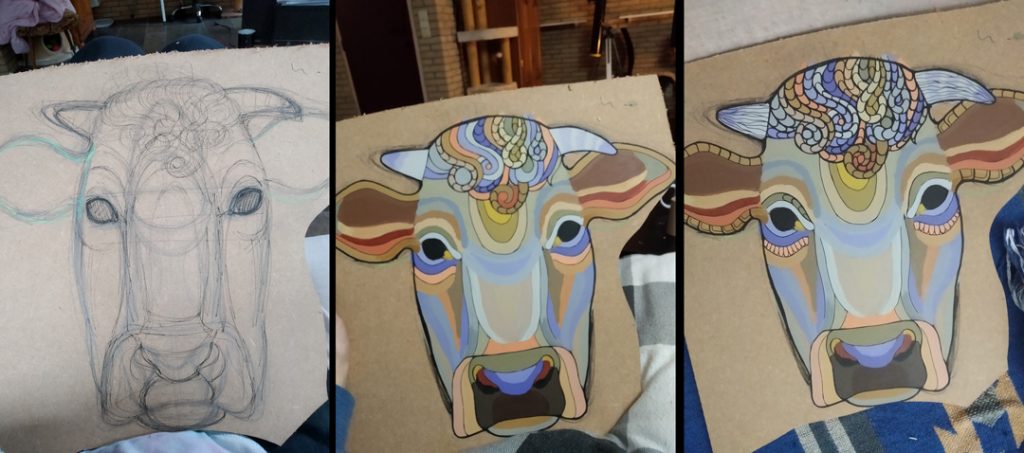 Sometimes you meet an animal that you instantly have a special connection with. For me that was Hera. I love cows, they are such gentle and calm beings. It is unbelievable that we live in world that is so cruel to so many beings. Let's change our world together by raising awareness & defending the innocent by going vegan.
Peace, Joeke
All pictures of Hera & Sia are made by le Reve d'Aby
https://www.lerevedaby.com/hera