My name is Joeke and my mission is to spread love for animals through art
The message behind my art is to love & respect all living beings.
I draw all of my art by hand. When I finish an artwork, I make a digital version that I can use on all kind of products. Products that can be used to spread our love for animals. Like: pillowcases, apparel, patches, prints, stickers & more. (I only use vegan materials ♥)​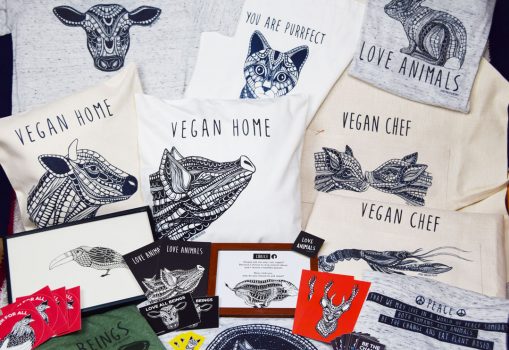 These are some of my drawings, I mainly work in black & white
I also love to work in color, in different styles.

All products I make are 100% vegan, aswell as all the materials I use, including the packaging.
This is my main priority, because I believe no animals need to suffer for us.
I do my best to use as little single-use- plastics as I can.
You package is shipped in compostable mailers and cardboard boxes. The tapes I use are eco-friendly & vegan.
Like to learn more about veganism? Click here!
Because I love animals so much, part of the profits are donated.
Like to find out which charities we donate to, thanks to your support? read more about this here.
PS: I am looking for small vegan organisations that are just starting.
If you know any? Send me an email at [email protected] ♥ Thanks ♥ 




All designs are originally drawn by hand. When the drawing is finished, I make a digital version that I use to make the merchandise.
Most merchandise I make myself aswell. 



I have always been an animal lover. Before I became vegan, I had a small organisation and my partner and I rescued stray cats.
Luckily we were able to help many cats and we found homes for many of them aswell, some of them still live with us.
But rescueing animals means you come across a lot of suffering aswell.
After a while I could not deal with this anymore, emotionally it was too hard.
I became vegan in the meantime and still wanted to do something to help animals,
so I started my own business and my mission is to spread compassion for animals through my art & help vegan organisations when I can.
The drawing in the photo is a chicken rescued by an organistion called Animal Rights.
In the second picture you see someone very special to me, his name is Moshu & he is a blind rescue doggie from Romania ♥

Like to see more of my vegan art journey? Follow/connect with me on:
Would you like to see my latest work?
Subscribe for the ART newsletter if you would like to stay updated
about new artworks AND be the first to know about discounts & sales. (Usually I send around 3 newsletters a month.)

Tiffanie Fairon
Talented artist, with a huge heart. Order received quickly and carefully packed.
Chi Amsterdam
She's the most ❤️heart-centered artist on the 🌎planet and she loves 🦊🐱🦁🦓🐷animals. As her customers and supporters, it's most wholesome to raise her up in the eyes of others so she can spread the message of veganism around the world! so much love for this beautiful spirit🙏❤️
Karolina Lapinska
So Nice! Beautiful designs and so much attention for the customer! Because of circumtances my parcel came later than expected and I received a small present + a hand written card. I am a fan 😁😁😁✌ / (Original NL: Zo fijn! Prachtige ontwerpen en zo veel aandacht voor de klant! Door omstandigheden kwam mijn bestelling later dan gepland en ik heb erbij kleine attentie gekregen + hand geschreven kaartje. Ik ben alleszins fan😁😁😁✌)
I also make murals for sanctuaries & vegan organisations.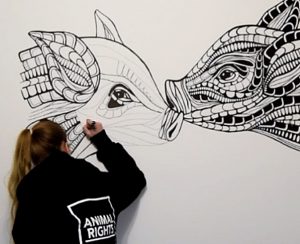 A mural I made to raise awaresness for Sea Shepherd.
An outdoor mural I made for animal sanctuary Forrest & Friends.

Part of the proceeds
are donated to a vegan charity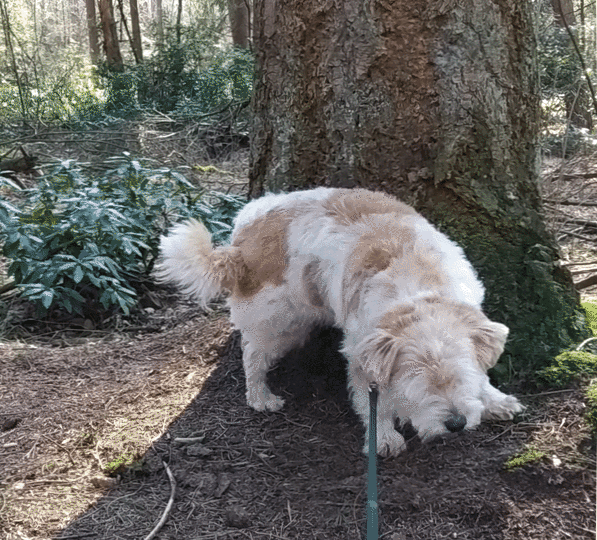 Meet our furry team member 🙂
HI, I am Moshu. My name means old man in Romanian, but I feel young at heart!
I am a blind doggie, but I can find my way around anyway & don't worry: I am very happy 🙂
Joeke & Marvin adopted me a few years ago and now I live in Belgium together 
with my rescued cat friends 🐱
I love to sniff things for hooouurs in the forest, as you can see in the short video.
Other things I love are sleeping, snacking & hugging my human friends.
Your's Furry, Moshu